Istanbul Travel Information
Istanbul Travel Guide
In my humble opinion, Istanbul could be argued as one of the best cities to visit in the World. I don't know of any city that has more to offer a person. Culture, history, religion, politics, people, diversity, conflict, architecture, water, sunlight, color, old world, new world, and the list goes on. All of this in a city that spans two continents. I've actually been living here, I decided to put even more time than usual into this Istanbul Travel Guide to make it the most expansive yet.
Development does not mean building skyscrapers, modern shopping malls and bridges. First of all, it means thinking about human psychology and building cities suitable for people's lives. Istanbul is a very difficult city. It has very nice features like having breakfast in the Bosphorus, but apart from a few similar things, it is a very tiring city. Traffic is blocking life in every sense.
Index – ISTANBUL Travel GuIde
---
Istanbul Pre-Travel Information – Istanbul Travel Guide
Welcome to Istanbul! on both sides of the Bosphorus. Istanbul was an important city in both the Roman and Ottoman eras. Today, the city is a bit chaotic but still very beautiful.
Language: Turkish (The number of people who speak English in Turkey is quite rare)
Population: 16,000,000 (10 million in European, 6 million in Anatolian side) 85 % are born outside of Istanbul.
Currency Unit: Turkish Lira
Time in Istanbul : +2 hours CET . Current time in Istanbul
Visa and Entry: No visa required for many country citizens
Constantine the Great made it the new eastern capital of the Roman Empire in 330 CE, the city became widely known as "Constantinopolis" (Constantinople), means the "City of Constantine". Its name became "Konstantiniye" in Ottoman era and "Istanbul" in Turkish republic.
In Roman Empire times It was the largest city in the world.
Istanbul's population was 300.000 in 7th century, 200.000 in 1500, 700.000 in year of 1700. In 1900 population of Istanbul became 1 million.
Istanbul's commercial and historical center lies on the European side and about a third of its population lives on the Anatolian side.
7th largest city in the world.
The world's fifth most popular tourist destination.
Istanbul has 936 neighborhoods.
Only 1,1 m2 green for 1.000 people.
5,5 million houses and 4,2 million vechicles.
There are 17.000 taxis in Istanbul. The reputation of Istanbul taxis is not good. Usually, the route is not the shortest, but route is chosen as the way the taxi fare will keep the most. You may check the approximate fee in here.
---
1. Saint Sophia Cathedral – Saint Sophia (Ayasofya) was completed and opened to the public on December 26th in 537, on the St. Stephen's day. Saint Sophia is indubitably the most beautiful structure in Istanbul in spite of the last 1500 years. Interior of church is more beautiful than exterior. In this dim and peaceful church, there are ancient mosaics of Jesus Christ, Virgin Mary and Eastern Roman emperors. The columns which were previously found in ancient Roman temples but used in the construction of Hagia Sophia are worth seeing. During your visit to Hagia Sophia you will feel yourself beamed into the 6th century.
2. Grand Rue de Pera (Istiklal Street) – The most famous street in Turkey. This 1,3 km long street starts from Taksim Square and ends in Tunel Square. France, Sweden, Russia, Greece and the Netherlands consulates located in here. And also you may find famous Flower Passage, Grand Pera Mall, Galatasaray School, St. Antoine Church, Santa Maria Church and historical metro station in Istiklal.
---
3. Underground Cistern – Underground Bascilica Cistern is thought to have been built after the Nika Revolt in 532. It was known as the Basilica Cistern during the Roman period, as there was a Stoa Basilica above the pre-existing one at the time. Today cistern has a rather eery and mystical ambiance.
---
4. Galata Bridge and Eminonu – So touristy but it's also so full of everything that makes Istanbul famous. Eminonu is a major destination for catching the ferry, getting a fish sandwich or enjoying the view of the sea and city line. This is also one of the best spots for great light in the city. It's wide open and that golden light Istanbul is famous for really shines beautifully here.
---
Other Places to Visit
5.New Mosque & Bazaars – New Mosque is always full of life with great light. It's also the most popular place to feed the pigeons so you can try to catch something there before you head into the bazaars.
---
6. Balat & Orthodox Patricate – Balat does attract some tourists because of its colorful, old Istanbul styled neighborhood, but most people just stay in the touristic pockets. Some areas can get pretty eye opening with crumbling buildings, but most have colorful old houses and apartment buildings. There's a diverse mix of turkish, kurdish, gypsies and some syrian refugees living in the neighborhoods here. While you are in Balat, Istanbul Orthodox Patricate is a must-visit place. Patriarchate is a spiritual leader for 250 million Orthodox Christians in the World. The column in the right corner of the Patricate church, seen through the opening in the iron cladding, is very important because it is regarded as the column to which Jesus was bound before Jesus was crucified. On the right are the coffins of three saints: Saint Eufemia, Teofano and Solomonie.
---
7. North Part of Bosphorus – While Fatih gives you a more old world look at Istanbul, Northern part of Istanbul gives you a look at the trendy and chic Istanbul. Bebek is a beautiful area along the Bosphorus waterfront where you'll walk by expensive boats and yachts, fancy cafes and restaurants, and a beautiful park. Arnavutkoy and its narrow streets and Rumeli Castle are other photo spots of the North.
---
8. Topkapi Palace – Mehmet II, the Conqueror, began to build Topkapi Palace in 1459 including the Harem and the fourth courtyard. The rest of the palace was built in following years. He adjusted the Byzantine city walls around the walls of Topkapi. there are three important buildings in the first courtyard of palace. Aya Eirine (the Church of Divine Peace), the mint treasury of the Ottoman Empire and famous Istanbul Archaeological Museum. In the other parts of Palace you may see imperial kitchens, the Divan (chamber of ministers), Arz Odasi (hall of visitors to the Sultan), Enderun (palace school), Sultan Dresses, Library and famous Treasury of Ottoman Dynasty.
---
---
9. Grand Bazaar – Oldest shopping center in the World with 5,000 shops. The bazaar dates back to 1461. Receiving more than a quarter-million visitors a day, the bazaar features such items as jewelry, carpets that may or may not fly, handmade products, antiques and hand-painted ceramics.
---
---
---
---
Istanbul is a city built on hills. It gives amazing city views, but when walking the streets, it also gives you a work out. So be ready for lots of stairs and steep climbs.
The Sea – You can shoot both Bosphorus Sea Line and Marmara Seaside in sunrise or sunset time.
Color – Istanbul is very cosmopolitan, crowded and also colorful city. You can catch colorful frames in this interesting city.
Cats – Istanbul is a city with full of the cats. Let's shoot them when they are sleeping, walking, jumping, playing….
Cultural Mix – Yes Istanbul is a cosmopolitan city. It covers different cultures and people with different backgrounds. These years there is a huge immigrant community from Syria, Afghanistan, Pakistan and Iran.
Politics and Religion – Turkey is one of the secular country. But since last years Islamic movement getting strong with tollerance of EU.
Turkish Coffee & Tea – A typical instagram story… A hand, A glass of Turkish tea and Bosphorus view… You may try.
Ferry Life – Ferries are one of the most important public transportation line of Istanbul. Everytime you can see a ferry between European side and Anatolian side of the city.
---
Istanbul Weather for Travellers – – Istanbul Travel Guide
Weather in Istanbul : Winter is colder in Istanbul than in most other cities around the Mediterranean Basin, with low temperatures averaging 1–4 °C (34–39 °F). Spring and autumn are mild, but often wet and unpredictable. In summer high temperatures average around 29 °C (84 °F) and rainfall is uncommon.
Highest average in August is 27 °C (80 °F). Lowest average in February is is 3 °C (37 °F).
---
Accomodation – Istanbul Travel Guide

Taksim Area
The Marmara Taksim – The Marmara Pera :
Located in the Taksim Square, The Marmara epitomizes the essence of harmonious, yet sleek shapes and colors in an alluring and sophisticated place which makes it the first choice for the epicurean traveler.
PLACES TO VISIT around Istanbul – Istanbul Travel Guide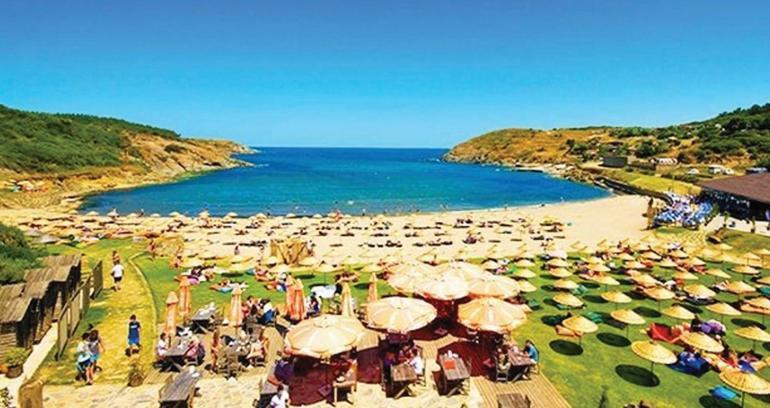 ---
KILYOS AND BEACHES IN ISTANBUL : Located just north of Istanbul, Kilyos, Black Sea coastal town, has been offering swimming and beach pleasure in summer days for Istanbulites for many years. Kilyos is a place where metropolitan people, looking for an oasis among huge skyscrapers in the heat of summer, flock to its beaches for a weekend getaway. It is 50km away to Taksim. You may rent a car or go by metro and than a bus.
PRINCE ISLANDS : In centuries past, the Prince Islands was a place where out-of-favor princes and other royalty were exiled to. Today, the nine islands are a place to celebrate fun in the sun, as it's a resort for Turks. Just a short ferry ride away from Istanbul, the islands represent a slower pace of life, with bicycles and carts providing the only transport services. Besides Victorian cottages, Buyukada is home to the St.George Church and Monastery that was founded in the sixth century.
---
TROY : Troy is a legendary city in what is now 380km away from Istanbul, made famous in Homer's epic poem, the Iliad. According to Iliad, this is where the Trojan War took place. Troy was destroyed many times since it was founded around the 3rd millennium BC, with a new Troy being built over the top of the previous one. Digging is still going on today, giving travelers a rare opportunity to see the past uncovered. The site also contains a large wooden horse built as a playground for children, shops and a museum. From Istanbul you may fly or drive
---
EDIRNE : Once the capital of the Ottoman Empire, Edirne's grand past is visible all about you, as fantastic old imperial buildings, palaces and mosques are scattered about here & there. The Selimiye Mosque, for instance, is a must-see in this delightful city, and the Old Quarter is lovely to wander around. There is lots of delicious cuisine on offer. A great time to visit is in summer, when the prestigious and traditional oil-wrestling festival of Kirkpinar takes place.
---
GALLIPOLI : Gallipoli is famous as one of the biggest disasters for the Allies in World War I. The battle at the Dardanelles lasted in 1915, and ended with the defeat of the Allies by the Turks. The Gallipoli Peninsula offers many opportunities to learn more about this battle, including the Anzac Walk. One such site is the Battle of Çanakkale' that led to the founding of the Republic of Turkey a few years later. Thirty-one cemeteries where the fallen of both sides are buried offer another opportunity for visitors to reflect on the sacrifices made by that long ago generation.
---
EPHESUS and CHRISTIAN HERITAGE : Ephesus, one of the most iconic symbols of Turkey, is also one of the most majestic ancient cities in the world. Ephesus was once considered the most important ancient Greek city and the most important trading center in the Mediterranean region. Also Ephesus known as Saint John is believed to have written his Gospel. House of Virgin Mary is the place where Mary have spent her last days. It located on the top of the "Bulbul" mountain 9 km ahead of Ephesus, the shrine of Virgin Mary enjoys a marvelous atmosphere hidden in the green.
In the year 250 AD, seven Christians facing persecution for their beliefs were imprisoned. They awoke 180 years later to find Christianity fully accepted and outwardly practised. The place of their imprisonment is called The Cave of the Seven Sleepers and it is a 5 minute drive from Ephesus. Saint John's Basilica in Selcuk, the believed burial site of the apostle. the tomb of St.John, church and baptism sections are open.
CAPPADOCIA : Cappadocia is very popular region with surreal landscape view, hot air baloon rides, tasty wines, cave churches, underground christian cities, horse rides and cave hotels. From Istanbul to Cappadocia, distance is 800km. There is a direct flight from Istanbul to Cappadocia Airport.
---
---
GASTRONOMIC TOUR TO ADANA : Located in Southern Turkey, Adana is one of the most agriculturally productive areas in the world. As such, history buffs can see remnants of 10 ancient civilizations while visitors feast on fresh regional dishes. You can enjoy an Adana kebab, a sensational spicy kebab made of ground meat, as tasting local beverages like shalgam, a drink made from dark turnips, and shıra, a type of grape juice. The region's classical cuisine will delight the palate of the most discriminating gourmet. Early april, when the scent of the charming orange flowers dominate the city and seduce the people of Adana, they now also know that the most looked forward event of the year is soon to arrive. The Orange Blossom Carnival! Colorful suits, hats and costumes, dragons and witches, most importantly lots of happy faces will populate the streets. Get ready to have fun and feel this city's warm, Mediterranean spirit.
---
NORTH CYPRUS : Cyprus is the third largest island in the Mediterranean; In 1963, Cyprus has been divided into two separate states. There are plenty of beautiful sandy beaches and famous, most beautiful wild flowers grow in here. There are lots of history to see everywhere, in Northern Cyprus. North Cyprus is also popular for Gambling and luxury hotels.
GREECE : From Istanbul to Athens, is 1,090km and trip takes 12 hours by car and 1 hour 15 min by plane. Pegasus, Turkish and Aegean operate flights every day. There is also a direct flight to Thessaloniki and Halkidiki from Istanbul Airport.
BULGARIA : The distance between Sofia and Istanbul is 550 km. 6 hours by car, 16 hours by train and 40 min by plane. To Varna Bulgaria is 50 min by plane. Turkish Airlines operates Daily flights from Istanbul Airport. Burgas is 330 km and you need 4 hours by car.
MACEDONIA : Skopje, N.Macedonia is 900km and it takes 9 hours by car and 1 hour 10 min by plane from Sabiha Gokcen Airport and Istanbul Airport.
---
---
Other Travel Guides :
Adana – Alacati – Athens – Cappadocia – Dresden – Istanbul – Izmir – Kusadasi – Budapest  – London –  Podgorica – Prague – Skopje – Tbilisi– Thessaloniki
Best Cities for Street Photography  – How to always find cheep flights
---
© Copyright Kivanc Turkalp Photography, 2016-2023
---