Selanik, Θεσσαλονίκη , Salonica
Thessaloniki Travel & Photography Guide
A short and concise guide about Thessaloniki. I have been many times. I organized many PhotoWalks in Thessaloniki with the Greeks and foreigners. Now I will share my experiences and photos with you. I hope it goes well. For more information, you can contact me by e-mail.
Index
General Information – Thessaloniki Travel & Photography Guide
Thessaloniki… It was the Jerusalem of Balkans before 1912. In Turkish times, Thessaloniki's (Salonca) Jewish element was the most dominant. However, very little remains of that colorful and cosmopolitan history in Thessaloniki.
Unfortunately, there are not many preserved old buildings in Thessaloniki. What remains are structures that survived the great fire of 1917 and, in a rather skewed way, urbanization. But, the most famous of those, the White Tower, is still standing.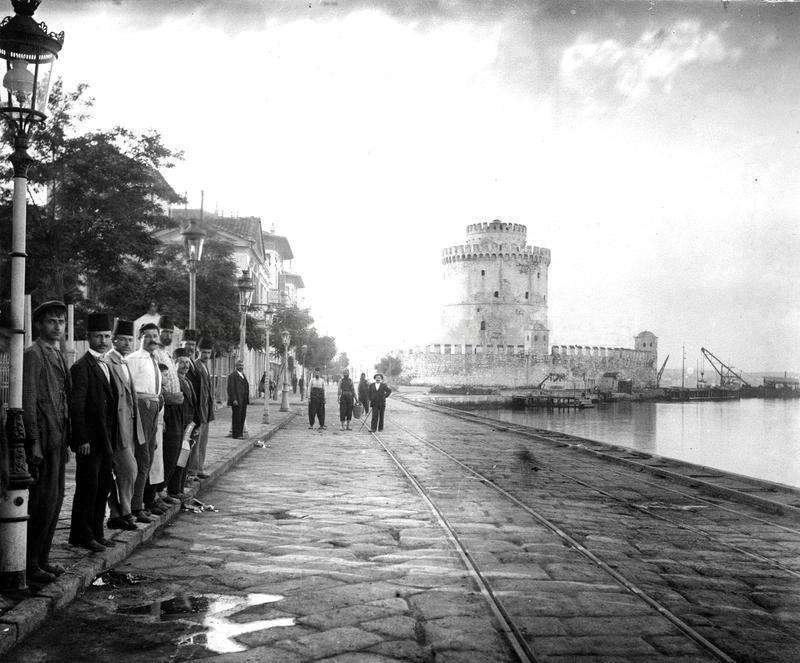 My first impressions of Thessaloniki : Quite Relaxed, Noisy and Fun

Language: Greek
Population: 1 million people
Currency: Euro
Visa and Entry: Schengen Visa is required for non-EU. Passport control is smooth.
Founding date of the city is 315 BC.
The original name of the city was Thessalonike. It was named after the princess Thessalonike of Macedon. It means "Thessalian victory", from Thessalos, and Νike 'victory'.
Architectural structure 6-7 story reinforced concrete apartments and tents in every balcony. But very few old buildings.
Thessaloniki came under Turkish rule in 1379. After 500 years, in 1912, the Greeks occupied the city.
October 26, 1912, the victorious Greek cavalry rode into Thessaloniki, the richest and most cosmopolitan city in the Ottoman Empire. The city's vast wealth created centuries earlier by powerful Levantine dynasties. Its factories teemed with Turks, Jewish, Greeks, and Bulgarians. Together, they had created a majority Jewish city that was unique in the christian Balkans. But to the Greek nationalists, Salonica was a city of infidels. Finally, Greek troops descended on Salonica. They rampaged first through the Turkish and Jewish quarter, and then throughout the rest of the city.
In August 1917, a suspicious fire broke out, according to Western press. Especially Turkish and Jewish quarters were burned in the fire. After that, a formative component of redevelopment was to establish Thessaloniki as a clearly 'Hellenic' city. In other words, it was devoid of its Ottoman past and dominated by ethnic Greeks.
Turks were subjected to forced migration from Thessaloniki in 1922.
In 1925, government destroyed all the minarets of the city ,except Rotonda. Because it evokes Turkish sovereignty.
In 1931, an antisemitic riot, led by Nationalist Greeks, took place in Campbell. It was a Jewish hood and was completely burned. As a result, Leaving 500 families homeless and one Jewish resident dead.
The city was occupied by Germany in 1941.
In 1997, Thessaloniki was the European Capital of Culture.
It was the European Youth Capital in 2014
---
Best Places for Photography in Thessaloniki – Thessaloniki Travel & Photography Guide
In every city we have one question : How to instagram #thessaloniki 🙂
1. White Tower – It was built by the Turks in the 15th century by order of the famous ruler Suleiman, the Magnificent. It is a small copy of Rumeli Fortress of Istanbul. The tower, which was painted white in 1891, is still called the White Tower, although it is not white. After that, Greeks demolished the walls around it. The tower is a museum today and offers a 360-degree view of Thessaloniki. Admission is 3,- euros. English audio guide is free.
2. Ladadika – The Ladadika hood, close to Thessaloniki Port, takes its name from the olive oil warehouses found in the past. Previously, the area where Jewish traders were located. But, totally changed in the 1980s. Also, Former bordello of Thessaloniki was in this district. A Muslim place of worship has also been converted into a "cafe and bar". In conclusion, Ladadik is so nice place for Photo Shooting. Address : Fasianou Street, 3
3. Tsinari : The district's name was Çınar Mahalle (plane tree in Turkish) before the Turks were subjected to forced migration from the city. Now, it called Ano Poli (upper city). Tsinari is one of the rare neighborhoods in the city where you can find history before the 1970s. Above all, It is worth seeing with its old-style houses, mansions and fountain of Murat II. (Address : Agiou Nikolaou,3 Upper City)
A piece of Istanbul and a piece of Izmir
---
4. Yedi Kule -At the top of the city stand the Yedi Kule (seven towers) , known by its Turkish name, with panoramic Thessaloniki view. the Eptapirgio Castle, which, despite, its present-day tranquility, ranks as one of the city's most storied and colorful monuments. Yedi Kule is one of the best area for Photography. Especially, for sunrise or sunset times. Adress : Trigonio Tower
---
A piece of history and beautiful landscapes
5. Hamza Bey Mosque – This Ottoman mosque is in the center of city. Just, in front of old municipality building. (Venezelou Street, 39) Temple is still, the biggest mosque in Greece. It built in 1467 by Lady Hafsa. But In 1925, The minaret of the mosque was demolished. And also, the temple was converted into a movie theater called Alkazar. New owner added shops to street side. They demolished its outer walls to expand the display cases. In addition to natural wear, destructions were made due to reasons such as expanding shops, opening windows, and building a warehouse in the basement. The floor was raised for the movie theater. Over time, when things got worse, the temple turned into a movie theater showing porn movies. Then it closed.
Restoration, which has not been completed for 15 years, still continues. But for sure, it will not reopen as a temple.
---
6. Agia Triada – Agia Triada was one of the richest hood in Turkish times. Formerly it was famous with seaside mensions. Before 1912, it is a district (former Hamidiye) where especially donmehs lived.
Donmeh were a group of Sabbatean crypto-Jews in the Ottoman Empire who converted outwardly to Islam. But, retained their Jewish faith and Kabbalistic beliefs in secret.
The biggest Donmeh Temple (Hamidiye Cami or Yeni Cami) is still standing. Now it is a part of Archeological Museum. (Archeologikou Mousiou, 30)
So, when you visit the structure, you may notice that the temple resembles a synagogue more than a mosque. But the Government destroyed the minaret of the mosque and converted mosque into a museum.
Also, you can see some old Turkish mansions that have managed to survive in this district.
---
What You Need to Know – Thessaloniki Travel & Photography Guide
Weather in Thessaloniki
In July, the hottest month, the average air temperature is 25 degrees. In January, the coldest month, this figure drops to 6 degrees. But, the rainiest month is November. In August, the sea water temperature reaches 26 degrees.
Click Here for Thessaloniki Weather Forecast
---
Thessaloniki Places to Stay:
Airbnb is a good choice for renting a house in the center of Thessaloniki. Also, Thessaloniki offers quite a few options for airbnb. The average hotel price per night for 2 people in Thessaloniki is around 70 euros. But the average price in 4-star hotels is 90 euros/night and 5-star-hotels is 150 euros/night. Meanwhile, Hostel prices are between €15 and €30 per night for one person.
---
Rent a Car in Thessaloniki
Thessaloniki Car Rental: There are offices of international companies such as Avance, Avis & Budget, Hertz & Thrifty and Sixth in Thessaloniki Airport's arrivals ground floor. The roads are comfortable for driving. The city center is 13 kilometers from Thessaloniki Airport. It is possible to reach the city by car in 17 minutes. Halkidiki is 57 km and trip takes 50 min.
Just as this time you can visit around Thessaloniki, Dojran (Macedonia) is only 90 km and journey takes about 1hour. Skopje is 250km and 290km. If you like long trips by car, Tirana (Albania) is 400km, Bulgarian capital Sofia is 300km, Also, Istanbul (Turkey) is 580km.
---
Thessaloniki Flights
Companies operating domestic flights (Kalamata, Heraklion, Athens, Mytilini, Mykonos) in Greece are Aegean, Sky Express and Olympic. Also, airport provides international flights. Swiss (Zurich), Lufthansa (Frankfurt, Munich), Turkish (Istanbul), Ryan (Venice, Katowice, Dusseldorf, Frankfurt, Warsaw), Aeroflot (Moscow), Wizz (Vienna, Kutaisi), Austrian (Vienna), Transavia (Amsterdam) and Eurowings (Hamburg, Cologne) operate international flights.
Bus Service from Thessaloniki Airport
Bus service runs every 30 minutes. The journey from airport to the city center takes about 40 – 50 minutes. Single fare of bus is €2. Tickets can be purchased by vending machines on board the service also.
---
Thessaloniki Port
The Port of Thessaloniki is right next to the center and is easily accessible by car, taxi or bus. Although there are several bus services from the city center to the port. You can take bus 15 and get off at the stop Limani ("port"), which is less than a 3-minute walk from the port's main gate. If you like walking, it should take you maximum 20-25 minutes to get to the port on foot. Also, there are Frequent ferry connections are Alonissos, Andros, Heraklion, Crete, Skaithos and Skopelos.
---
Cost of Living in Thessaloniki
Restaurants : Meal in an inexpensive restaurant is €10. A Mc Donald's menu is €7. Meal for two in a mid-range restaurant is €35. Cappucino is €2,75, Cola (330) is €1,25 and water (0,33) is €0,50
Transportation : One way public transport is €1. But, 1 liter gasoline is €1,50 and taxi starts from €3,50.
Markets : 0,5 liter bottle domestic beer is €1,40. 0,33 liter imported beer is €2. A pack of Marlboro cigarette is €4,60. Mid-range bottle of wine is €7.
---
Greek Cuisine -Thessaloniki Travel and Photo Guide
The most famous and traditional flavor is Bougatsa. So you know, Cheese Pastry. It is a good choice for breakfast.
Since frappe is a coffee unique to Thessaloniki and originated from here. And, it is possible to find iced frappe everywhere. Turkish Coffee is another option for a cup of drink. But, Greeks call it Greek coffee.
Greek Ouzo can be good choice. You can enjoy the Thessaloniki cuisine, which is a fusion of Mediterranean and Eastern cuisines, at long dinners called Halara. In Halara, which is used to mean relax, no need to rush, the meal doesn't come on time, don't get angry if you wait for your drink! So you know, some people can be lazy.
---
Tips – Thessaloniki Travel and Photo Guide
One day is enough time for a general city visit. But, if you prefer to taste various delicious foods and see the nightlife, you can stay two days.
Watch out for the unbearable heat in summer.
There are bus services from the airport to the city center. Though you have to buy tickets from the kiosk.
The city is a bit dirty and noisy. But so funny.
Beware of theft and snatching.
There is no need to pay for public transport (except airport bus) as there is no ticket control.
---
Thessaloniki Nightlife
To thedro sto bar (Το δέντρο στο): This is an old mansion type building with high ceilings, old wood covering, and a large staircase. Live Greek music available.
Thessaloniki nightlife, Thessaloniki restaurants, what to eat in Thessaloniki, where to go in Thessaloniki
Pastaflora darling: Located in the center of the city on Zefxidos Street, this place is famous for its coffee and cocktails.
Pulp: A variety of colorful beers. This is the best place for beer lovers.
Coctail Bar : Interesting music, nice people and cocktails. Cocktail prices are between 7 and 10 euros. It might be a little pricey, but it's a nice place.
---
Other Travel Guides :
Alacati – Athens – Istanbul – Izmir – Budapest – London – Podgorica – Prague – Skopje – Tbilisi– Best Cities for Street Photography – How to always find cheep flights
Kivanc Turkalp Photography © 2016-2023